The mission of the Michigan Science Center (MiSci) is to inspire curious minds of all ages to discover, explore and appreciate science, technology, engineering and math (STEM) in a creative, dynamic learning environment.

As a 501(c)(3) nonprofit organization, MiSci relies on the generous support of donors, sponsors, community partners and members.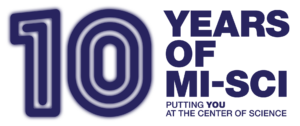 Mi-Sci Celebrates The Powers of 10!
Throughout 2023, we'll have special events, temporary exhibits, outdoor summer programming, and more. This year-long celebration will explore the power of 10.  
The power of 10 is a mathematical concept that centers on the exponential potential of the number 10 and the use of scientific notation to express it.  
Have you thought about what happens when you multiply 10 by 10 and keep going?
10¹ = 10×1 = 10 
10² = 10×10 = 100 
10³ = 10x10x10 = 1,000 
When you visit Mi-Sci in 2023, you'll get to be a part of the power of 10. Throughout the year, we'll highlight how numbers can work exponentially to have a tremendous impact. What will happen when even more kids and adults get excited about STEM? What discoveries will they make? 
We put you at the center of science, and from there, the possibilities are exponential. 
Bonus: Here is a video from Eames that illustrates the powers of 10. Watch as it zooms out from a person, extends into deep space, and then zooms in to the cellular level. https://www.youtube.com/watch?v=0fKBhvDjuy0 
Sign-up for our newsletter and be the first to know about events, exhibits, and more!