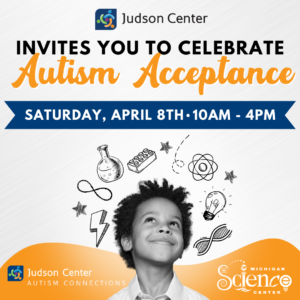 Date: April 8
Ticket Pricing: Adult (16-64):$18 Youth (2-15) Senior (65+): $14
Included with General Admission: Yes
We are joining forces with our friends at Judson Center to create sensory friendly activities and inclusive spaces for Autism Acceptance Month. April 8th Judson Center Connections staff will be onsite here at Mi-Sci to provide families and guests with important resources and information around Autism Services and Autism Acceptance.
Special Autism Acceptance Month Activities on April 8th will include:
o Building with giant LEGO bricks
o Snow themed sensory table
o Mars water excavation sensory table
o Autism Acceptance Coloring Station
o Autism Acceptance Trivia
o Helpful Resources and Information
o A Quiet Room for Sensory Breaks
Come explore, learn, and connect with us as we celebrate Autism Acceptance Month and the beautiful (NEURO)diversity in our community!
To learn more and to purchase your tickets to join us,
Discover More at the
Michigan Science Center