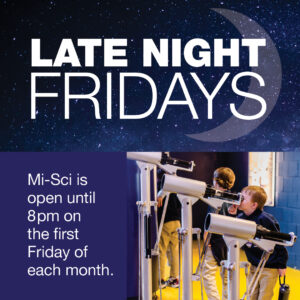 Date: February 2, 2024
Included with General Admission: Yes
Looking for a fun and educational night out? Join us for First Friday Late Nights at the Michigan Science Center! Our Late Nights offer a unique opportunity to explore the museum's galleries and catch a theater show after hours, with extended hours until 8pm on the first Friday of every month.
With hands-on exhibits, interactive displays, and engaging shows, Late Nights at Mi-Sci are the perfect way to discover the wonders of science and technology in a fun and relaxed atmosphere. Whether you're looking for a family-friendly outing or a unique date night experience, you won't want to miss our exciting Late Night events.
Here are the Late Night showtimes:
Toyota Engineering Theater: Turtle Odyssey – 5pm, 6pm
Planetarium: Global Soundscapes – 4:30pm, 6:30pm
One World, One Sky – 5:30pm
IMAX® Film: Dream Big – 4pm, 6pm
IMAX® Lasers: Laser Beatles – 5pm, 7pm
Science Stage: Frostology – 5pm, 7pm
Free Admission for WSU Students: Mi-Sci is delighted to collaborate with Wayne State University to offer free admission to its students. This partnership is just one of the many ways we're working to make science education available to our community. So if you're a Wayne State student, there's no need to purchase tickets, just show your student ID at the entrance and come join us for a night of discovery and exploration!
Discover More at the
Michigan Science Center