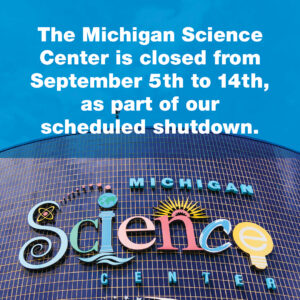 Date: September 5 - September 14
As a reminder, The Michigan Science Center will be closed from September 5th to 15th as part of our scheduled shutdown. Just like you need a good night's sleep or a well-planned vacation, so does Mi-Sci! During this time, we're refreshing and preparing even more wonders of science for you, so that we can return with a bang!
Think of it as a planned break that'll help us create even more awe-inspiring experiences for you. We'll be back with more wonder and excitement on Saturday, September 16th as something special is "building" at Mi-Sci! So, mark your calendars and get ready for our epic return!
Our team is eagerly preparing to delight you with new and exciting exhibits, events, and experiences. Stay tuned for more updates and surprises coming soon!
Discover More at the
Michigan Science Center