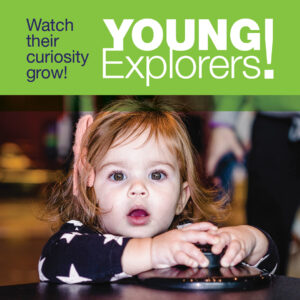 Date: June 11
Ticket Pricing: $12
Included with General Admission: No
The Michigan Science Center's Young Explorers Program invites our youngest scientists (ages 2-5, not yet enrolled in kindergarten) to dive into a range of STEM topics based on the theme of the week. These classes incorporate elements of literacy, social-emotional learning, play, pattern-recognition and improving motor skills to engage our guests in the world of science and design.
Ticket price includes one child and one adult participant. General admission must be purchased separately. The adult participant may be a parent, grandparent, babysitter or any other adult excited about exploring with their Young Explorer. All classes include activities and crafts designed to be completed with the assistance of the caregiver.
Additional adults and children may not attend due to space constraints and program design. Infants may be brought, but are asked to be in a carrier so adult hands are free to assist their Young Explorer with activities.
Wednesday, March 1, 2023

Sunday, March 5, 2023

Week 1: Red is for Magnets

Magnets are like magic! Explorers will see how magnets push and pull on certain materials, then make a magnetic sculpture of their own.

Wednesday, March 15, 2023

Sunday, March 19, 2023

Week 2: Orange is for Vegetables

Ever wonder how plants become the food we eat? Explorers will determine just what vegetables need to grow and learn some American Sign Language along the way.

Wednesday, March 29, 2023

Sunday, April 2, 2023

Week 3: Yellow is for Stars

Explorers will learn all about our nearest star: the Sun! Find out how the Sun makes life on Earth possible, while exploring its importance to other planets in our solar system.

Wednesday, April 12, 2023

Sunday, April 16, 2023

Week 4: Green is for Frogs

Amphibians have unique adaptations that help them live on land and in water. Explorers will discover what makes frogs unique (and potentially dangerous!).

Wednesday, April 26, 2023

Sunday, April 30, 2023

Week 5: Blue is for Water

Water may seem ordinary, but not to a scientist! Explorers will dive into chemistry experiments that all involve this seemingly simple liquid.

Wednesday, May 10, 2023

Sunday, May 14, 2023

Week 6: Pink is for Brains

Put on your thinking cap to explore how brains power all the things people do! Test all five senses and learn how brains let us perceive the world.

Wednesday, May 24, 2023

Sunday, May 28, 2023

Week 7: Gray is for Robots

Robots are everywhere! Find out how robots are designed to be helpful in our every day lives and how to spot them all around.

Wednesday, June 7, 2023

Sunday, June 11, 2023

Week 8: White is for Light

Light is all around us and helps us to see. With the help of some scientific tools, Explorers will bend light and find hidden colors!
Discover More at the
Michigan Science Center